i'm totally in the groove this week and loving it. nothing like a bad week to totally make you focused!! got to the gym today and did my cardio. it felt really good. i need to get my strength training in before the week is over. i'm going to try to get that in tommorow.
yummy product find from trader joe's!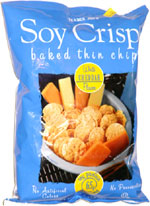 110 calories for 18 white cheddar soy crisps...kind of hard to stop munching but perfect to bring in plastic bags for a work snack.
BL is on tonight, can't wait :)
ta ta!