good afternoon & happy hump day!!
scale: 134 (after the gym)
days left of work:
2
days until my weekend beach trip:
3
days until my best friends wedding (hehe):
9!
i've definitely been on a roll this week. i hit the gym for the third day in a row and did 65 minutes of cardio! yay! not much else to say, considering i was at the gym so long, i better get back to work...in the meantime, new product reviews from yours truly :)
product reviews: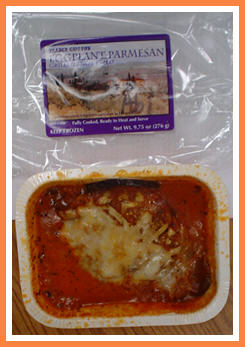 picture source:
heat, eat, review
trader giotto's (joe's) eggplant parmesan
the eggplant in this is grilled, not fried! the sauce is great and it's very cheesey but the seeds in the eggplant were kind of weird. it was a good lunch though, i would probably buy it again. only $2.29 and around 5 points. it said to microwave for 9 minutes, which i did. it completely burned the sauce around the rim, gross. next time i would probably do it for 6-7 minutes.
lean cuisine pork stir fry
roasted pork,edamame and water chestnuts in an asian style garlic sauce over whole wheat pasta. this was okay. the pork was yummy but the sauce didn't do anything for me. the pasta would be great with a marinara sauce. i love that it's whole wheat pasta!