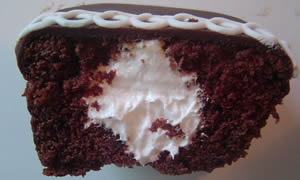 okay, maybe i haven't made this clear to the universe. i need those hostess 100 calorie pack cupcakes. i grew up on the regular hostess cupcakes with the curly white icing and the fact that they sell them in a diet form, rocks my world. and the fact that you can eat THREE for 1 point, rocks it even harder. i need them! where are they? i've sent my sister and boyfriend on special assignment, they know they have to look at any target, walmart, grocery store they step foot in. i sound crazy. haha.
sarah
was lucky enough to find them in her store, go to her blog and check it out. if you can't tell, i love chocolate. with a great passion.
didn't go to the gym last night. boo. and not going tonight. boo boo. i'm not feeling so hot today (a little hungover, screwed up the lent thing already!). i'm DEFINITELY going tmw. no matter what.
last night ate out with my boyfriend. we went to fridays (they had $2 beers and i gave in to boyfriend pressure). we split the turkey burger. it was so yummy, even my meat loving boyfriend liked it. that's one of the things i love about him, he will share in my dieting madness, he will eat the low fat turkey tacos and the spaghetti squash lasagna and tell me how delicious it is :) he's the best!
then proceeded to drink wine while watching the maryland game. bad idea but whatever. you live and you learn!
back to work....if you know where to get these cupcakes please let me know store name, state, city, phone number of store....HAHA. KIDDING.
or am i? ;)